イラストレーター ジェフリー・フルビマーリがCWC Gallery & Shopのためにオリジナルアートを制作しました。Stay home期間、アートは、様々な形で人々の心を豊かにしてくれる欠かせない存在となりました。そんな中、ジェフリーが平和と幸せを心から願いながら描いた今作は、アートを通じて少しでも多くの人々をハッピーにしたいという思いから生まれました。

キャンバスに描かれた女性が見つめる視線の先、それぞれのストーリーを想像しながら選ぶのも楽しいですね。
あなただけの運命の1点に出会えるかもしれません。

今作は、サイズもコンパクトでお部屋のインテリアとしてもオススメです。キャンバスを使用しているのでフレームがなくてもOK! 壁に立てかけてみたり、棚に置いてみたり、ディスプレイの仕方は様々です。どうぞお楽しみください。

<<商品説明>>

※1点もののため、返品交換は受け付けておりません。また、ご注文のタイミングにより完売の可能性がございます。あらかじめご了承ください。

サイズ:幅20cm x 縦25cm x 厚み1.5cm
画材:キャンバス、アクリル(こちらの作品は原画になります。裏面には直筆サインが入っています。)

★オリジナル商品は、Junie Moon オンラインショップからお求めいただけます。


A new series of Jeffrey Fulvimari paintings have been created, exclusively available at CWC Gallery & Shop! Liven up your house with these beautiful original works.

There seems to be an unspoken tale to each of Jeffrey's paintings, almost like the girl gazing back has a story to tell. Each picture is a one-off original. You may find the one just for you!

Each piece is compact and suitable for any room interior and requires no frame. You can hang it on a wall or display it on a shelf, find out what works for you!

<<Product Explanation>>

We do not accept returns or exchanges due to the one-of-a-kind nature of this item. There is a possibility that the item may be sold out depending on the availability of your order. Thank you in advance for your understanding.

Size: 20 cm (width) x 25 cm (length) x 1.5 cm (thickness)
Material: Canvas, acrylic (This work is an original painting. Autograph on backside.

Find Jeffrey Fulvimari's original products at the Junie Moon Online Store.
*Tax included.
*Additional shipping charges may apply, See detail..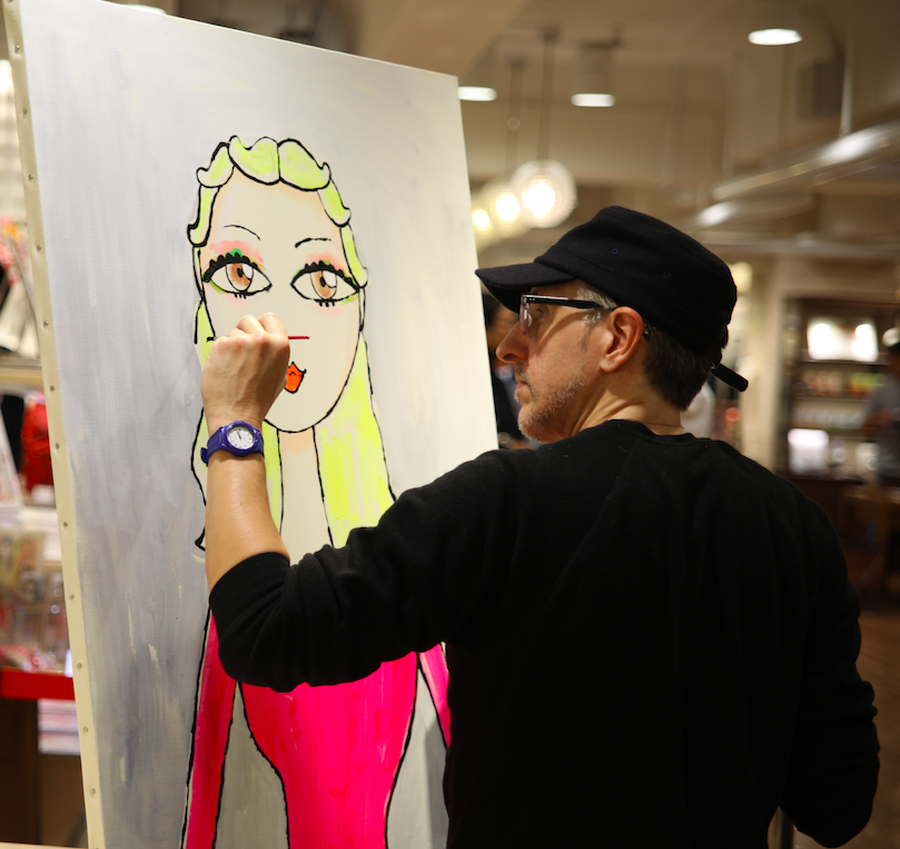 アメリカを拠点に活躍している人気イラストレーター。日本では、オリジナルブランドの展開や広告など幅広く活躍しています。また、毎年開催される展覧会やライブペインティングなどでは、ジェフリー自身もファンとの交流を楽しみにしています。イベントやポップアップショップの最新情報は公式サイトでご案内しております。

Based in upstate New York, Jeffrey is a wildly successful illustrator active in various fields, including branded advertisements and his original products. Every year, he comes to Japan to meet his fans and to do a live painting. For more information on events and pop-up stores, please visit the official websites below.

Online store: http://shop.juniemoon.jp
Official website: http://www.jeffreyfulvimari.com/
Jeffrey Fulvimari Original Art #16